---
Much like any other language, the most effective way to learn how to speak the Korean language is to listen to a native speaker.  Furthermore, it is just as important to speak the language yourself as often as possible.  It then also follows that classes, software, videos and books can teach you the fundamentals of a new language; but you will become a fluent speaker only with consistent practice and repetition.
K-Pop Music
K-pop music has recently awakened a renewed interest in the Korean language.  Accompanied by modern rhythms and popular themes, K-pop lyrics do tend to subtly earworm themselves into easy repetition as you listen.  Unfortunately, K-pop is littered with slang, idioms and appropriated English words, which also makes it a poor quality resource for a non-native speaker who is trying to learn conversational Korean.
Fortunately, we've provided a wealth of resources listed below that will give you a better grasp of Korean.  These resources will also teach you to speak the language with fluency and confidence:
Learn Korean with Books
Books, textbooks and e-books remain a popular way to learn Korean.  This is also a resource where you learn at your own pace and do not necessarily need an Internet connection.  This makes them a great option for you to improve your language skills during a long trip or your daily commute.
Here are some recommended book resources:
Korean Language Software
Language-learning software is very popular as an educational resource for schools, universities and businesses.  Similarly to a instructor-led classroom course, the software allows you to work at your own pace.
Rosetta Stone is the most popular language learning software in the world.  Many thousands of people have learned new languages with this software; and their high quality offerings include the Korean language.  Particularly noteworthy is that the price has gradually come down over time and can be found on Amazon for under $150.
Korean Language Classes and Tutoring
Hire a Tutor
The most direct and individualized choice for learning Korean is to hire a private tutor who will tailor their lessons to your skill level.  The most significant advantage of this option is that you will learn at your own pace, and the tutor will ensure you maintain the consistent level of necessary practice and repetition as well.  The personal service that you receive will be, generally, far superior and worth the extra expense if this option is within your budget.
Local Classes
As a more cost-effective solution, you may find and attend a locally-offered Korean language class.  Individual tutoring may or may not be offered by the instructor, but you will also have classmates at the same level of proficiency that could offer additional help and practice.
Online classes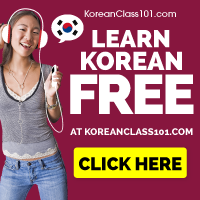 If you are unable to find Korean classes offered in your area, you could take advantage of available courses that are offered online.  Generally taught via video tutorials, these courses tend to focus on vocabulary, grammar, and the mechanics of the Korean language.
Online you will easily find basic Korean characters and words.   It is important to use a resource that also covers more advanced topics such as sentence structures and the correct use of jon dat mal (the form of Korean used in respectful situations, discussed on our Speak Korean page.)
You will find more information on resources that are available online on our Learn Online page.
Telephone Lessons
An additional resource you may consider are native-speaking Koreans who offer Korean lessons over-the phone.  With some research you should be able to find a service offered at an affordable price.  During these lessons you will engage in casual, brief conversation while correcting mistakes as they occur.
Learn Korean with Streaming Television
There are a number of sites online offering Korean drama and comedy shows with English subtitles.  You will find many Korean television series and movies are currently available to view on the Netflix streaming service.
It is traditional for characters in Korean dramas to speak proper Korean language.  The actors and actresses also speak their lines very clearly, making them an excellent supplemental learning resource.  Also, unlike American soap operas that run for many seasons, a typical Korean drama will run for a single season of 16 episodes.  So, they take a relatively short period of time to binge watch.
In conclusion, it is important to consider you priorities, budget and personal needs as you select the resources (or combination of resources) that is right for you on your journey to become a fluent Korean speaker.